Big Takeaways from AWS re:Invent 2021

,

While normally I consider myself a consistent writer, since this summer it's been difficult for me to muster to will to research and share the newest, most interesting things happening in the technology space. My New Year's resolution is to take the time to make this happen, and I'm going to kick it off with fun takeaways from re:Invent: the big annual conference for the Amazon Cloud (AWS):
A Cloud Conference In-Person
Lex now speaks Portuguese & Chinese
Data Darwinism
Amazon SageMaker Canvas
AWS IoT TwinMaker
AWS IoT FleetWise
1. A Cloud Conference In-Person
In twist of fate, the biggest cloud conference of the year was in-person. During the small window between Delta and Omicron, Amazon managed to pull together an in-person conference in Las Vegas, while simultaneously allowing free attendance to all those online. The headcount of in-person attendees was smaller than previous years: around 30,000 people versus the 60,000 in 2019, but the irony of a cloud technology conference having an in-person component when so many other conferences were cancelled was not lost on us. For Metal Toad's part, only 3 toads (out of 45) were able to attend this year, but we thoroughly enjoyed learning about the new technology releases: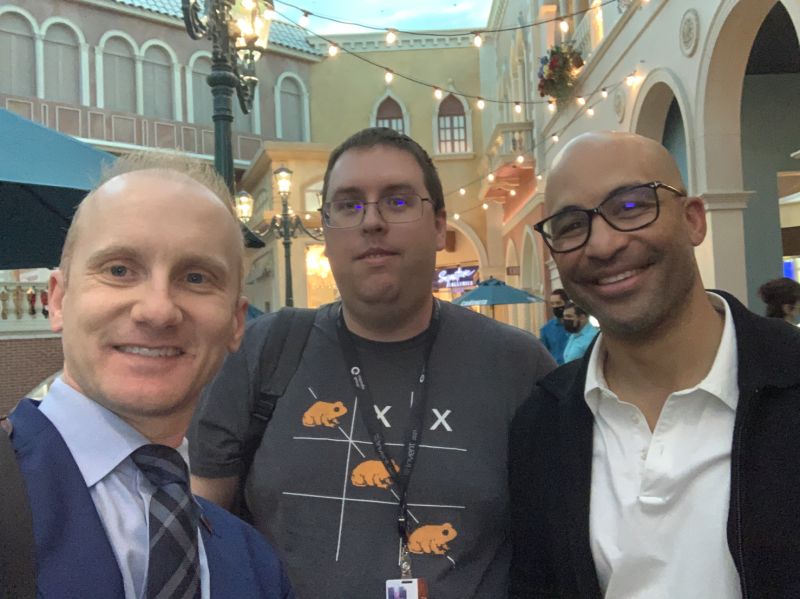 (Left to right) Me, Nathan Wilkerson, & Scott McAuliffe in the canals at the Venetian
2. Lex now speaks Portuguese and Chinese
Lex, Amazon's clever name for a ready-built chatbot has added two new languages to it vernacular: Portuguese and Chinese. The addition of Chinese seems to be a sign of the times, and the inclusion of Portuguese is no surprise to us, but might be to some people in the United States. Portuguese is the 9th most spoken language in the world, but the fact that Amazon has chosen to add this in before Hindi, Bengali, Arabic, and Russian, despite already supporting non-roman character sets is a testament to Brazil's massive population and hyper-engagement online.  Brazil is the 6th most populous country in the world, and  #4 in terms of internet usage. 
With these new additions, that brings Lex's language count to a total of nine:
English (4/2017)
Spanish (9/2020)
French (11/2020)
Italian (11/2020)
German (11/2020)
Japanese (4/2021)
Korean (9/2021)
Portuguese (12/2021)
Chinese - Mandarin (12/2021)
3. Data Darwinism
During his keynote, VP of Machine Learning at Amazon, Dr. Swami Sivasubramanian, "upped the ante" when it comes to machine learning and data, saying specifically: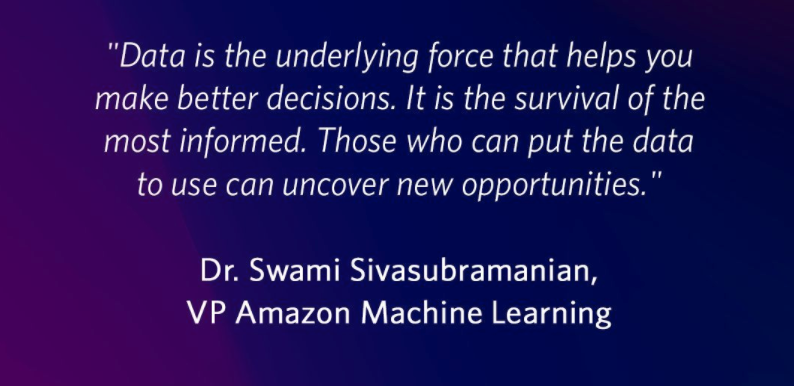 Does this mean that companies not looking at data are dinosaurs? Long term (30+ year) probably, though in the closer term I believe that data and machine learning are competitive advantages for those who explore it, rather than extinction events for those who don't. Data and applied ML are one aspect of a very complex landscape, and not something that should be ignored.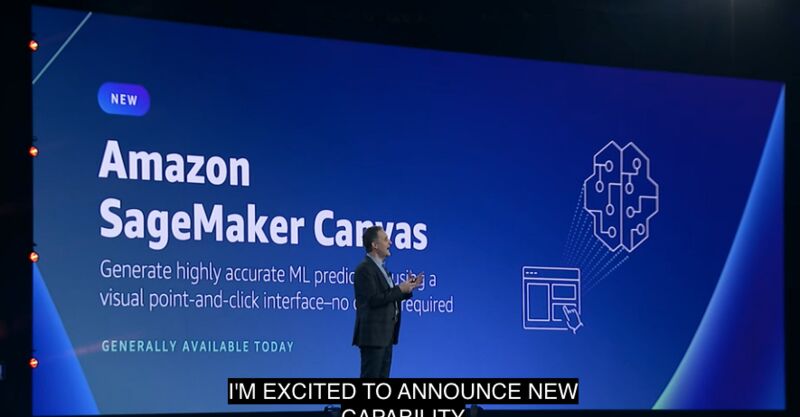 AWS CEO, Adam Selipsky, accouncing the Amazon SageMaker Canvas product at re:Invent
4. Amazon SageMaker Canvas
AWS is attempting to push the boundaries of democratizing machine learning (ML) with a new product announced by CEO, Adam Selipsky has called SageMaker Canvas. SageMaker is the flagship machine learning platform for Amazon, and it underpins most of their other ML products. SageMaker Canvas provides visual, "no code machine learning capability for business analysts". This feels similar to Microsoft's Visual Basic, released way back in 1991, which was supposed to allow "drag-and-drop" programming. The need for programmers, and programming via text never went away, but it was/is certainly a major milestone.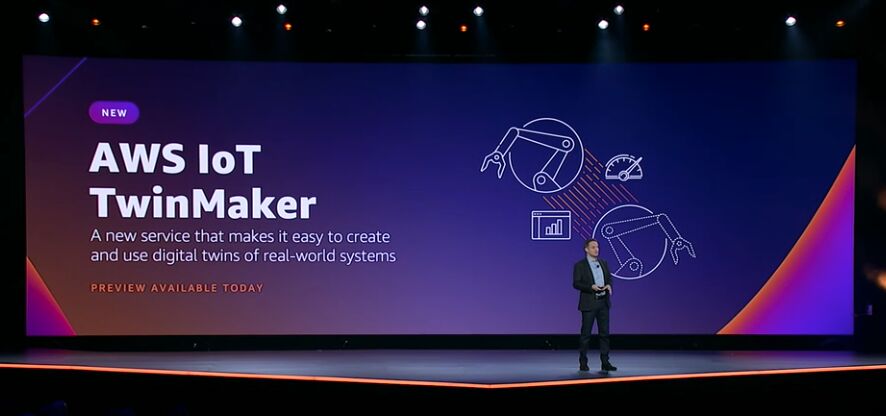 5. AWS IoT TwinMaker
A digital twin is a virtual model which reflects a physical object in the real world. The object being studied (for example, a smartcar) is outfitted with lots of sensors and this data is used to create the virtual model, which can then run simulations.  The concept dates back to 1991 and the book Mirror Worlds written by Dr. David Gelernter, a professor of computer science at Yale. While Dr. Gelernter's book covers the much more ambitious digitization of human beings experience with the world around them, the product being released by Amazon, AWS IoT TwinMaker, is intended for industrial purposes: allowing leaps forward in engineering products by enabling rapid long term simulations.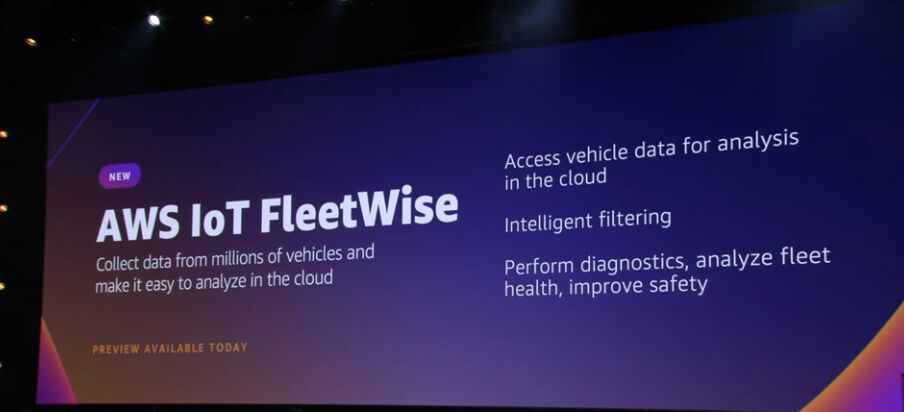 6. AWS IoT Fleetwise
Finally, Amazon is getting into the smartcar game, at least when it comes to the data. Smart things (cars, refrigerators, speakers, etc) are collectively referred to in tech as IoT or Internet of Things devices. The term was brought into "popular" use by Kevin Ashton back in 1999, and now is included in a number of product names. Smartcars are the smartest of things, with dozens (if not hundreds) of sensors, not only collecting data on pedestrians and driving conditions, but engine temperature, and the health of critical components. All of that data needs to be collected and stored somewhere, and the release of AWS IoT Fleetwise is Amazon's push to be that cloud storage provider. Why would we want to store all that old sensor data? Why to create cloud-based digital twins, of course. 😉
Into the future
I hope this year finds you and your loved ones well. While it may be hard to ignore politics in this coming election year, I'll keep brining you little snippets of tech and glimpses of the Cloud as our world is ever-changing.
Date posted: January 8, 2022