Back to work

,

This article first appeared in the Metal Toad newsletter. Subscribe to our weekly newsletter here to stay up-to-date on the latest cloud insights for the Media & Entertainment industry from Metal Toad.

For the first time in 12 months, I am exploring options for an actual office space outside of my home.  As many of you know, Metal Toad went remote-first back in 2019 and closed the doors to our large headquarters office on March 1, 2020. In hindsight, it looks like we might have had some power to see the future and the chaos of the pandemic, but it was simply lucky timing.

The change to remote-first was great; the move to remote-only was challenging. We had offices in co-location facilities around the world: Los Angeles, Portland, Brazil, but like most of our clients, we haven't gone into those facilities in over a year.
Are we ready to go back?
I've been looking at the shift to work from home as a permanent move. In February, I wrote an email entitled "work from home forever," and while there are certainly people for whom that will be true (especially in tech), I now believe things will be more nuanced.
Two weeks ago, I published an informal survey on LinkedIn with the following prompt: Who's looking forward to going back to work in a physical office? I asked all of our staff members to fill out the survey, and in all, 328 people from dozens of different companies weighed in. Here are the results: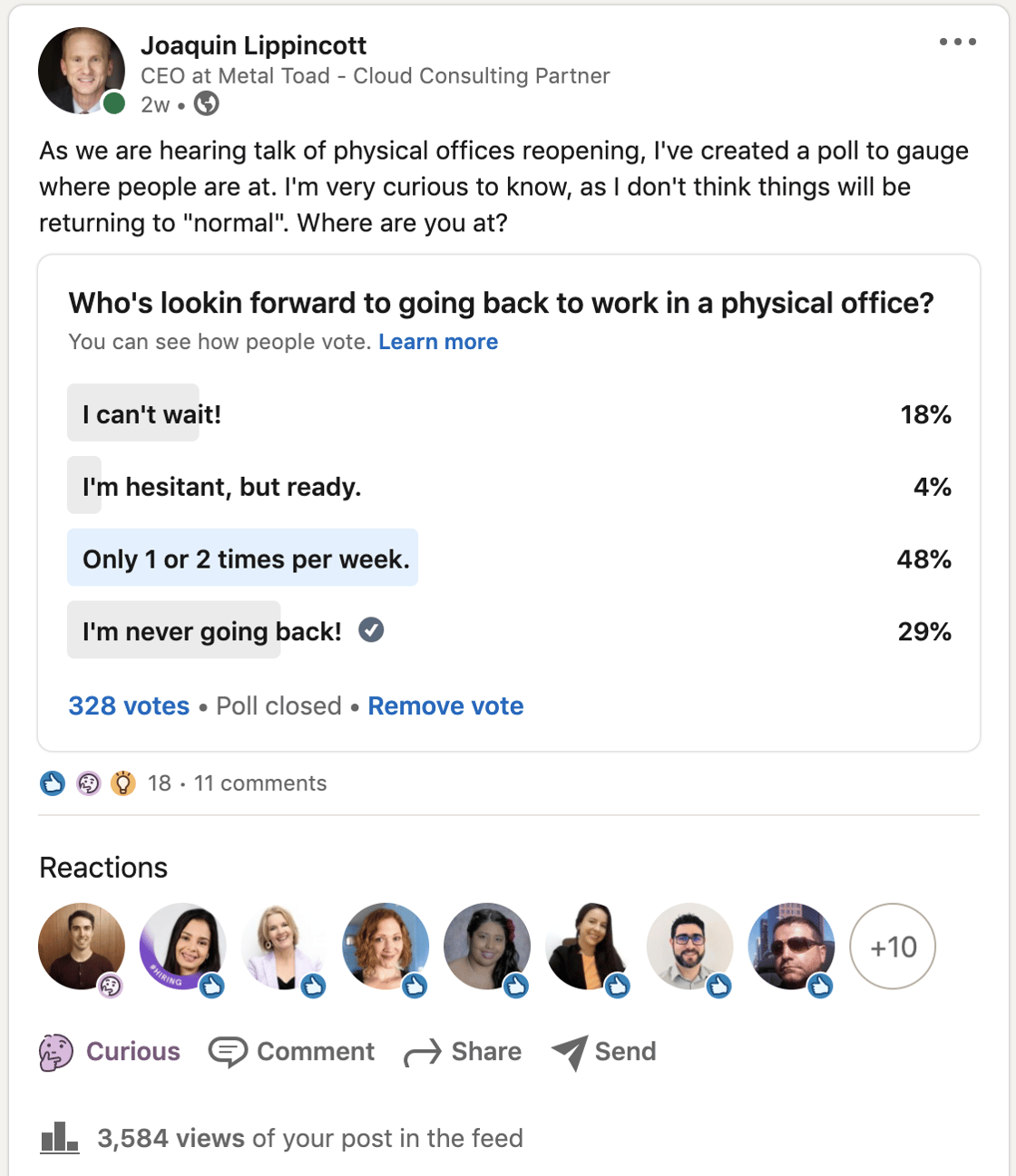 It turns out that:
18% of respondents can't wait to go back
around half only want to go 1 to 2 times per week
almost 1/3 say they are never going back
This can obviously vary by industry and individual company. Using Metal Toad as an example, fully 66% of respondents said they would never go back to an office, with 22% interested in 1 to 2 days per week.
Supporting a variable workforce
How do we support an office that may be reduced by 33% to 66%, with up to 2/3 of people "in office" only coming in a few times per week? For us, the answer is co-working spaces. Even prior to the pandemic, we had moved to a co-working model which allowed our staff to head into a nearby office stocked with coffee, snacks, and humans. This minimized the commute (significant in larger cities like Los Angeles), kept our overhead reasonable, and helped create great team experiences.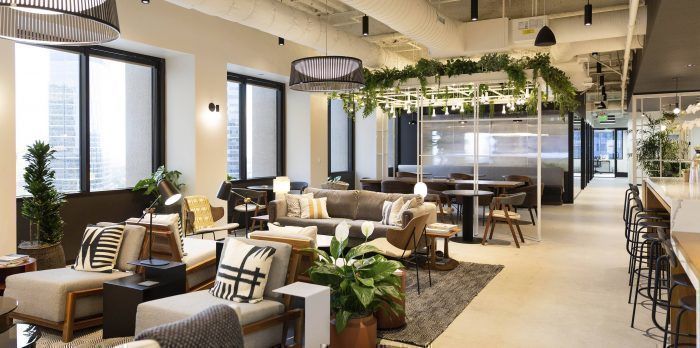 Heading in to (re)look at some of the local co-working spaces in Los Angeles, it's clear that the pandemic has had a substantial negative impact. In 2019, spaces were hard to come by, but today there are multiple vacant offices to choose from. It will likely take some time for this sector to rebound, as any pandemic resurgence could shut things down in a hurry. However, for those co-working spaces that make it through, I think this may become a strategy that more and more companies, even large corporations, pursue as commercial leases come up for renewal or as employees push to hold on to the reduced commute and increased family time. That has been the unexpected upside for those of us who have been fortunate enough to be able to work from home. Let's see if the phrase Work Close To Home (#WCTH) ends up catching on or not.
Note: This article first appeared in the weekly Metal Toad newsletter. If you find this article helpful and think someone in your life would benefit from it, please consider forwarding it to them and asking them to sign up to receive it themselves.
Date posted: April 13, 2021